So much to say, but let me start with a picture.  Dan Reeves took the picture in this paragraph.  It's of Terry Fink and his mom, Faye.  Faye's husband, Richard, went home to Jesus in late March.  Terry and his wife, Serena, and their extended family, have served and loved Faye through this challenging time.  And this picture sums up what I preached about Sunday from 1 Timothy 5:1-16.  I love this picture because it shows Terry's heart for his mom and her love for him, but it's also symbolic of our church's heart.  Our people love their families and are committed to the very things I preached about on Sunday.  It is so humbling to be a part of it.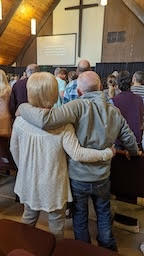 Regrets…Once Again:
In the 1st service, I commented on the sinful temptations I feel when older men correct me or disrespect me.  I said that my sinful heart wanted to say, "be quiet old man"
.  I never should've let that slip out of my mouth.  And if you're an older man and that offended you or concerned you, please forgive me.  What's ironic is that at 52…I'm the older man now.  It was not gracious sounding, and it most definitely doesn't represent how I've tried to treat more senior people in my life.  
I made the correction in 2nd service and made sure to be respectful in my comments.  But again, I'm sorry for letting that come out of my mouth.  And thanks for your ongoing patience with me as I grow.
Good Samaritans and Good Benevolence Policies:
I had a few of you ask on Sunday about how the Good Samaritan story would fit into the sermon on Sunday.  It's a great question.  But here's a very brief summary with an explanation:  The Good Samaritan story was taught by Jesus to the Jewish people about their lack of love for anyone who wasn't Jewish.  1 Timothy 6 was written to a pastor regarding how the church should care for those in their church who were truly in need.  
Now where the "rubber meets the road" on this is that the Good Samaritan story (Luke 10:25-37) is most certainly one we, as Christians, individually, should heed.  All humans are our "neighbors."  And when we see our neighbors in need, we should have a heart of compassion to help.  Further, we can see from the book of Acts that meeting a physical need often led to opportunities for the gospel.   However, where we need discernment as Christians is:  who is in need?  Certainly, someone in a ditch, jumped by thieves, and left for dead, is in demand!  But someone asking you for money at the grocery store or on a highway off-ramp?  Who knows?  And as one member of our staff told me recently:  "if someone comes to the church to ask for help or if they approach you for help, they don't need it, and they can get all the help they need from ADAPT or the Roseburg Rescue Mission."  That helped me a great deal because I have a desire to help people (as mentioned in my sermon
).
Where 1 Timothy comes into play is how the church, corporately and "institutionally," should do this.  It seems very clear from the text that the people we help are people we know; we see their love for Jesus and their love for the church.  This allows the church not to be "burdened" or overrun by "guilt-manipulation" but also to truly help people.  Further, it protects the church and will enable it to properly steward the funds that God has provided through His people.  
One example is that we have a few in our church who helped with our church's benevolence fund.  When they were either sick, out of work, hurt, or grieving their loss, these people were willing to open their lives to us so that we could know what the need was and how we could help.  But also, when they couldn't attend church or be with their community group, they longed to be with their church or community group!  They love our church. On Sunday, one of them approached me and thanked me for the care the church had given them.  It was so humbling.  And to see them back in church, regularly, as they're trying to get back on their feet is God's gift to me.  
Here's what we've noticed:  when a benevolence policy is working biblically and with care, people are sincerely helped.  When the attitude is, "give to all equally," "no criteria for getting help," and no expectations on how the receiver lives, you notice that no one is helped.  
This Coming Sunday:
This week, we will overview 1 Timothy 5:17-25 as we look at how to care for our elders/pastors in the church.  I think you'll find this very encouraging and affirming because CLF, you've done this very well.    
From the Cheap Seats:
The English Premier League looks like it will come down to the final Sunday.  Liverpool has a chance at an unprecedented quadruple while Man City tries to hold them off from the EPL Championship.  Amazing that after 38 rounds of soccer, teams are separated by so little.  
Our community has had some remarkable spring baseball:

UVC, the team I coach, won the regular-season 2A/1A District 4 Championship and has league playoffs this week.  We are 21-4, and the young men grow each week.
RHS, our local high school in Roseburg, is playing today (Monday) at Sheldon for a chance to clinch the Southwest Conference title for the 2nd year in a row.
UCC, our local community college, clinched 2nd place in the Southern Division of the Northwest Athletic Conference and will host a Super Regional this Saturday and Sunday at One Champion Field (aka Legion Field) to advance to the NWAC Championships.  
And this doesn't include South Umpqua High School, which is currently ranked #2 in Class 3A, and Glide, who's in our league and has done very well this year.  
I'm very grateful that God has forgiven me of my sin and given me a seat at His table as His child.  It's always good.
In Christ, 
Dave York